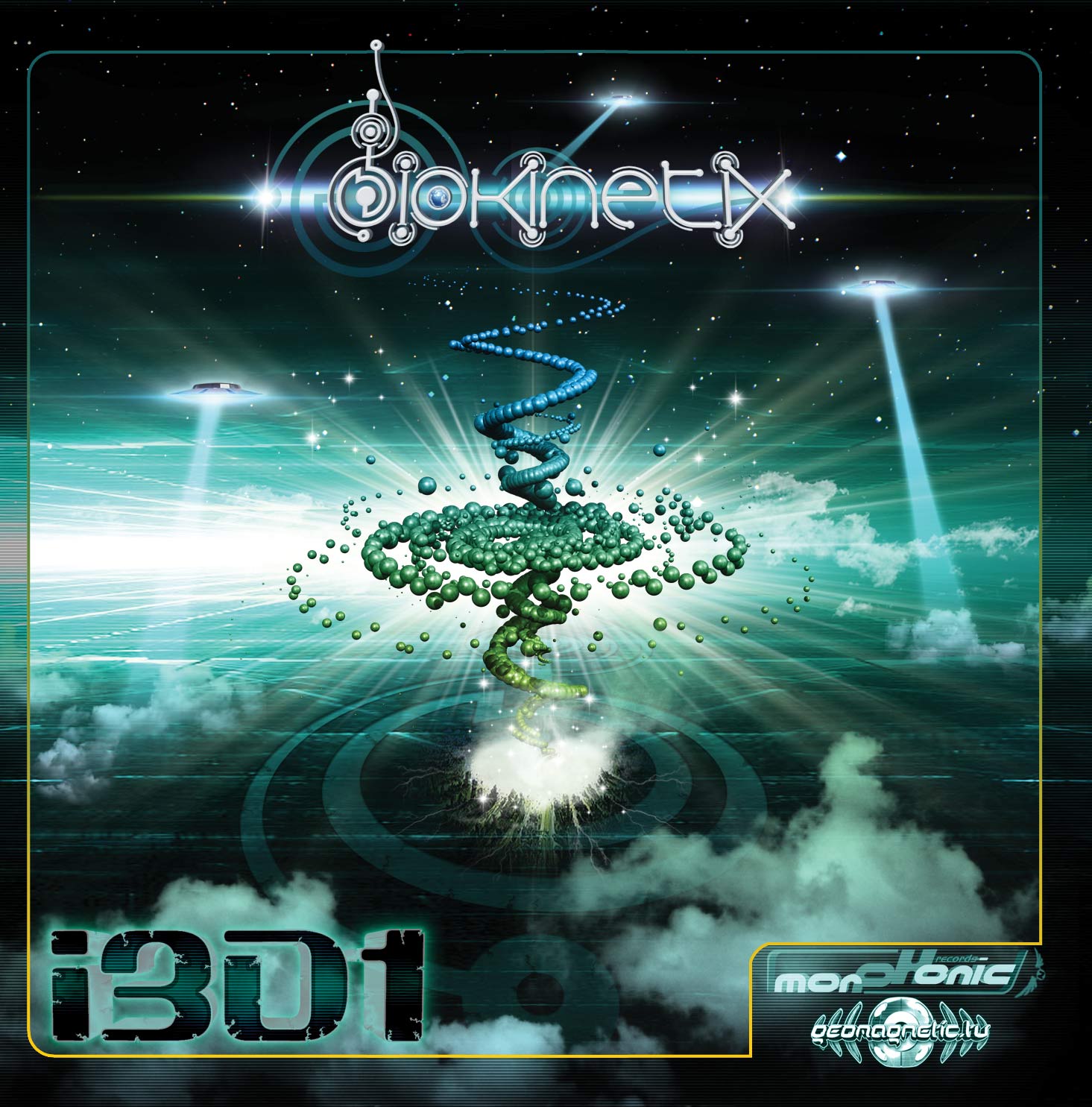 Title: i3D1
Artist: Biokinetix
Label: Geomagnetic / Morphonic
Catalog: GEOCD049 / MPH109CD
Format: 6-Panel Jewel Case Audio CD
Barcode: 881034378057
Release: January 2010 World Wide

TRACK LIST
1) Biokinetix - Acid Generation
2) Biokinetix - Black Sheep Technology
3) Biokinetix - Lets Go
4) Biokinetix - Encredible Experience
5) Biokinetix Vs Crystal Network - Crystal Activity
6) Biokinetix - Hyper
7) Biokinetix - Sextime
8) Biokinetix - Virtual Combat
9) SOM (rmx) - Black Sheep Technology
10) Biokinetix Vs LDB - Cosmic Love


Biokinetix is the hottest new presence from the French Underground Resistance. Aliens have taken over and patrol the skies but never fear Fabry is here with a killer of epic proportions. Like a fountain of magic power from the subterranean depths this wellspring of musical creativity and far out futuristic production tells a story of a people who will not submit to extra terrestrial control even when its lurking in our own government. Deep down earthlings know that their birthright is in the stars. Fabry (Biokinetix) was born in France in 1977 and was rocked in a varied musical world from an early age (Rock / Soul / Electro / Trance / Reggae …) His first experience as a DJ almost 11 years ago was on vinyl in London, mixing NuNRG and Psy-trance. After 4 years in England, he decided to come back to France and started DJing on the French stage. In 2006 Fabry signed with ETC… (epidemictrancecorp.com) sharing the stage with and shared the stage with Bizzare-Contact, Time-Lock, Ananda-Shake, Hyper Frequencies and more! After many years as a dj , Fabry felt inspired to create his own tracks under the project name "Biokinetix", in less then 1 year later his present his first live at the (Regular) Morphonic-records.com. In the end of 2008 his doing is first released on Geomagnetic.rec (usa) with the tune Crystal-Activity. Beginning of 2009 Fabry signed with Morphonic rec for 4 exclusive tracks featuring energetic structures and twisted synthetic sounds! He is influenced by psy and trance producers such as azax - damage - bliss - alien project - lab4 - tinrib and many more.
Artist Profile: www.myspace.com/biokinetix
Label Profile:
Morphonic Records is one of the leading new breed of fresh hot French Psytrance labels. Expect a new sound to be heard on the dance floors now. www.myspace.com/morphonicrecords
Morningstar is a subdivision of Geomagnetic Records. Uplifting, melodic, full-on, progressive and perfect for those ecstatic moments of sunshine and awakening, the Morningstar label knows you want to be carried on a cloud of feel-good grooviness as you welcome the morning light! www.myspace.com/geomagnetic
Geomagnetic.tv was established in the summer of 2001. Their first major international release is the legendary DVD project "MAGNUS" geodvd001. Since then the label has grown into a full fledged major electronic music and media label. Based in San Francisco and focusing mostly on music and visual related projects, you can expect to see lots more cutting edge releases on the way from this award winning crew! Geomagnetic.tv was started by Spook one of the founders of the prominent San Francisco 3D FX and Multimedia boutique known as Minds Eye Media (est.1995). www.mindseyemedia.com

CREDITS
Artwork by Nico Psyart
Distribution: SaikoSounds.com / Geomagnetic Distro
(p) and © Geomagnetic.tv / Morningstar Rec
http://geomagnetic.tv/news/geocd049
info@geomagnetic.tv mp3 Samples online.