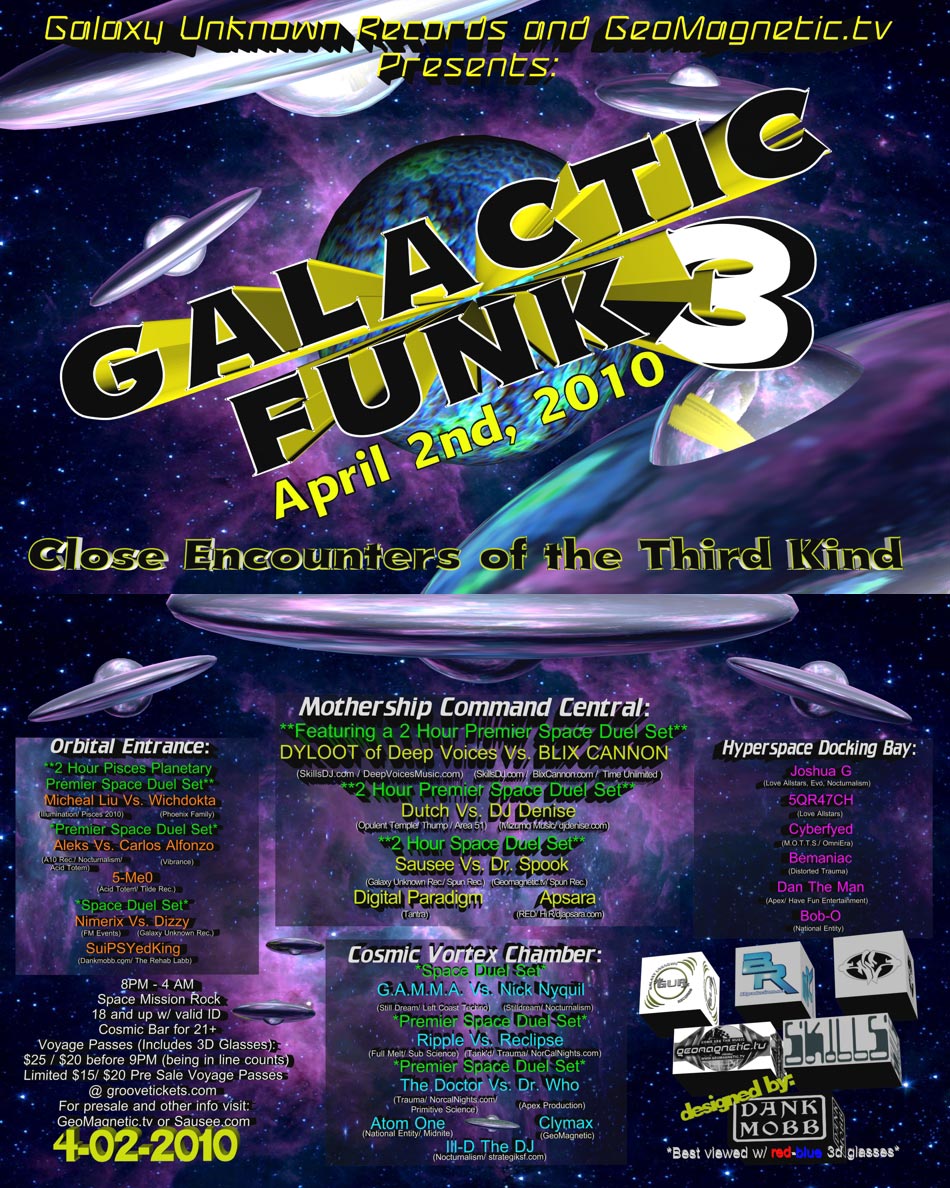 More information coming Soon! =-)
Galaxy Unknown Records & GeoMagnetic.tv presents:
Galactic Funk 3
Join us for
this cosmic celebration of out of this world electronic music, art and dance. Enhance your spirits with some extraterrestrial energy. We have 4 high powered zones of entertainment. Including a wide range variety of top local talent to guide us through these galaxies unknown. Including many first time ever Space Duel Sets. These Galactic Funk Navigators will empower your soul and bring out the alien in you. The hypnotic melodies will have you dancing like a Martian. So prepare your space suits, gather your fellow cosmonauts and we will see you for this intersteller voyage.
******************************************************************
Mothership
Command Central:
******************************************************************
**Featuring a 2 Hour
Premier Space Duel Set**
DYLOOT of Deep Voices (SkillsDJ.com / DeepVoicesMusic.com)
Vs BLIX CANNON (SkillsDJ.com / BlixCannon.com / Time Unlimited )

**2 Hour Premier Space
Duel Set**
Dutch (Opulent Temple/ Thump / Area 51)
Vs DJ Denise (Mizumo Music/ djdenise.com)

**2 Hour Space Duel**
Sausee (Galaxy Unknown Rec./ Spun Rec.)
Vs Dr. Spook (Geomagnetic.tv/ Spun Rec.)

Digital Paradigm (Tantra)

Apsara (RED/ Hi'R/djapsara.com)

*************************************************************
Cosmic Vortex Chamber:
*************************************************************
*Space Duel Set*
G.A.M.M.A. (Still Dream/ Left Coast Techno)
Vs Nick Nyquil (Stilldream/ Nocturnalism)

*Premier Space Duel Set*
Ripple (Full Melt/ Sub Science)
Vs Reclipse (Tank'd/ Trauma/ NorCalNights.com)

*Premier Space Duel Set*
The Doctor (Trauma/ NorcalNights.com/ Primitive Science)
vs Dr. Who (Apex)

Atom One (National Entity/ Midnite)

iLL-D The DJ (Nocturnalism/ strategiksf.com)

Clymax (GeoMagnetic)
********************************************************
Orbital Entrance:
********************************************************

**2 Hour Pisces Planetary
Premier Space Duel Set**
Micheal Liu (illumination/ Pisces 2010)
Vs Wichdokta (Phoenix Family)

*Premier Space Duel Set*
Aleks (A10 Rec./ Nocturnalism/ Acid Totem)
Vs Carlos Alfonzo (Vibrance)

5-Me0 (Acid Totem/ Tild Rec.)

*Space Duel set*
Nimerix (FM Events)
Vs. Dizzy (Galaxy Unknown)

SuiPsyedKing (Dankmobb.com)
*************************************************************
Hyperspace Docking Bay:
*************************************************************

Joshua G (Love Allstars, Evo, Tri-Atom, Nocturnalism)

5qratch (Love Allstars)

Cyberfyed (M.O.T.T.S./OmniEra)

Bemaniac (Distorted Trauma)

Dan The Man (Apex/ Have Fun Entertainment/ 4<3 Collective)

Bob-O (National Entity)
******************************************************************

Super Sonic Sound by: Full Circle + R1 Sound Crew
Celestial Lighting by: National Entity + FM Events
Inter Dimesnional Deco by: Tony
EYEZ-MIND + PsyLOTUS + ClyMAXX
3D Visuals and Galactic Game Station by: Apex + GeoMagnetic.tv

******************************************************************
8PM - 4 AM
Space Mission Rock
18 and up w/ valid ID
Cosmic Bar
for 21+
Door Voyage Passes (Includes 3D Glasses): $25 / $20 before 9PM (being in line counts)
Limited $15/ $20 Pre Sale Voyage Passes
Avaliable at groovetickets.com

For store pre sale pick up and other info visit: GeoMagnetic.tv or Sausee.com
$20 presales now available at:

Street Light Records
980 S. Bascom Ave San Jose
(408)292-1404

Cieba Records
1364 Haight Street
San Francisco, CA 94117
(415) 437-9598